ABOUT OUR SOCIETY

History of Scottish Country Dancing in Medicine Hat
Scottish Country Dancing in Medicine Hat was started in the mid-1940s by a small group of dedicated individuals. In 1976, the group became a registered Alberta Society as the
Medicine Hat Scottish Country Dancers
as well as an affiliate of the Royal Scottish Country Dance Society of Scotland (The RSCDS). The group continued to flourish and in 1981 became a branch of the RSCDS.
In 2017, we will host our
42nd Annual Workshop, Banquet and Ball
. Each year we enjoy seeing our old friends and meeting new ones.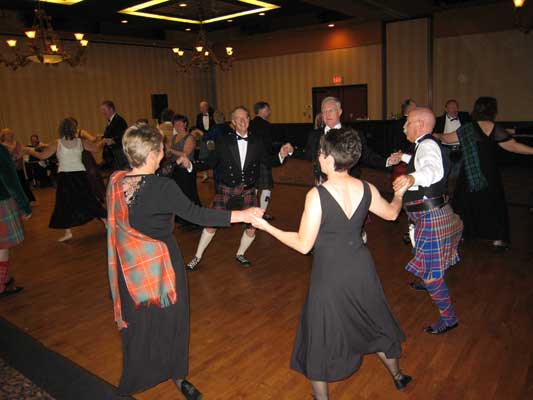 2007 Ball
What is Scottish Country Dancing?
Scottish Country Dancing is traditional social dancing that was derived from the court dances of the middle ages. Couples dance a series of figures, which vary from dance to dance. These dances are characterized by their primarily longwise sets and unique progressions. Country dancing first found popularity in the Tudor and Elizabethan courts. This popularity quickly spread to the French and other European centres, as well as the Edinburgh court. As the 19
th
century progressed, country dancing declined in popularity in Europe as other new social dances gained in popularity. Only in Scotland did country dancing continue to flourish along with the new dances. By the outbreak of the 1
st
World War, country dancing had survived in Scotland for over 200 years, but its popularity was starting to decline. It was due to the hard work of the RSCDS, that country dancing has maintained its popularity into the 21
st
century.
A Brief History of the Royal Scottish Country Dance Society
The Scottish Country Dance Society was created 26 November 1923 by Miss Jean Milligan and Mrs. Ysobel Stewart. Its objectives were to practise and preserve country dances as they were danced in Scotland by collecting old books, manuscripts and pictures of country dancing, and by publishing new books and music. In 1951, King George VI gave his permission for the society to use the word "Royal" and thus the Royal Scottish Country Dance Society was born.
Today the RSCDS is a worldwide organization with over 25,000 members, 200 branches and 500 affiliated groups. Its objectives today are as important as ever.
Membership
Membership within the branch is open to all persons over the age of 16. A special membership is available to those under 16. For more information, please contact us.

Workshop Travel Expenses

For Medicine Hat members who travel to out of town workshops, reimbursement of accommodation and workshop fee may be available. Submit the
Expense Reimbursement form
with invoices to the treasurer.